Are you unsure about whether or not you can wash your bath mat? Bath mats get dirty from everyday use and as a result, can harbor germs if not cleaned. Wash your bath mat regularly to get rid of mildew and germs. Odors can also be a problem with dirty bath mats. Learning how to clean a bath mat will keep it clean, germ-free and smelling fresh.
There are two basic types of bath mats for outside the tub. The first type is an absorbent cotton mat. The second type of bath mat is made of soft, fluffy material and is rubber backed for a non-skid mat. These rubber backed mats are sometimes referred to as bath rugs.
The Linen Store sells many different styles and colors of bath mats:
Before You Begin To Wash Your Bath Mat
The first thing you should do before you begin is read the label on your bath mat for specific washing instructions from the manufacturer. The manufacturers instructions will give you information regarding the correct water temperature that will work best for washing your bath mat. If you do not have a tag with water temperature instructions use cold water to wash your bath mat.
How To Wash A Bath Mat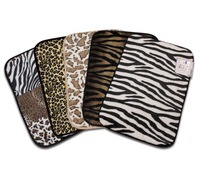 Carefully pick up your rug and take it outside and give it a really good shake. Another option for larger rubber backed mats would be to vacuum your mat. The point here is that you want to make sure that any larger pieces of dirt and debris are removed from your bath mat before washing.
Bath mats can be washed in either a front-load or top-load washing machine. Front-load machines tend to be a little better as there is no agitator arm, leaving more room for your bath mat to move around inside of the washer. If you prefer not to wash your bath mat in your washer, you can always wash your bath mat by hand in a large sink or tub.
If your bath mat is made of absorbent cotton without a rubber backing, it can be washed with a few bath towels in your washer on a delicate cycle. If this is the first time you are washing your bath mat, do not include bath towels in the load in case any color bleeds from your bath mat.
To wash a rubber backed bath mat, inspect the back of the rug prior to washing to make sure that the rubber is not cracked or crumbling. Loose pieces of rubber that could come off during the wash cycle. These rubber backing pieces could clog and damage your washer if they separate from your bath mat.
The thicker and fluffier the bath mat material, the less detergent you will need to use. You do not need to add a full amount of detergent when washing your bath mat. Better to have too less than too much detergent when washing your bath mat. You can also wash your bath mat with detergent made for delicate laundry. Wash your rubber backed bath mat on the delicate cycle setting on your washer.
Drying Your Bath Mat
If you are drying your bath mat in a dryer, use the air dry setting or tumble dry on the lowest heat setting on your dryer. Never dry your bath mat on high heat.
You can air dry your bath mat by hanging it on a clothesline outdoors or lay flat on a waterproof surface with the rubber side up. Air dry until your bath mat is fully dry.
The Linen Store Is Here For You!
We are always available to answer any of your bath mat questions or help you order one of our decorative bath mats. Contact Us and we will be happy to assist you!