Can you wash down alternative comforters?
Can you wash down alternative comforters? That is one question that we are frequently asked by our customers is. The answer is a resounding, Yes you can! Washing your down alternative comforter is easy to do and will keep your comforter clean and smelling fresh giving your bed a warm and cozy appeal.
Why Choose A Down Alternative Comforter?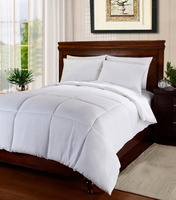 One of the primary benefits to purchasing a down alternative comforter is its' ability to keep you warm on those cold winter nights without blowing your budget.
Another benefit to down alternative bedding is that the filling is breathable, which helps to wick moisture off the body. Down alternative comforters tend to hold their shape well and can be expected to last for many years.
Many people may find out they are allergic to down comforters. For them, the only solution is to use an down alternative material filled comforter. Down Alternative comforters have the same fluffy look and feel of a down comforter without causing an allergic reaction.
What are down alternative comforters made of?
Down alternative comforters are great options for anyone allergic to down feathers or for anyone on a tight budget. Down alternative comforters can be made with rayon, polyester or cotton, to name a few.
If you are allergic to down comforters or want to save money, we sell down alternative comforters like; US POLO ASSN, ALTERNATIVE DOWN COMFORTER, a polyester filled comforter available in Twin, Full/Queen, and King sizes.
If simplicity is what you are looking for, we offer LUXURIOUS DOWN ALTERNATIVE 5 PIECE BED SET in just the color you need. These down alternative sets consist of 1 comforter and 4 piece sheet set (2 pillow cases, 1 flat sheet, 1 fitted sheet). The baffle-box design and doubled stitching keeps the down alternative filling from shifting and bunching.
Washing Down Alternative Comforters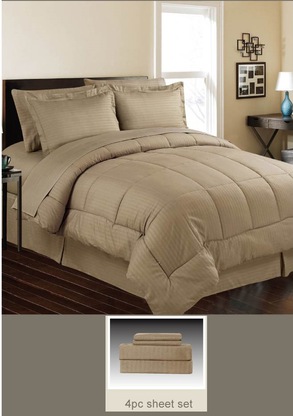 Down alternative comforters, if not soiled or stained, should be cleaned every few years. If your comforter is heavily used, you can wash it more often.
Down alternative comforters are best washed in front load washers. If you don't have a large capacity front load washer, consider going to a laundromat to use one there. A top load washing machine will have an agitator in the middle of the washing bowl that may pull the fabric and cause tears while washing your comforter.
Another reason for using a front loading washer is that your down alternative comforter will also expand and get heavy when it gets wet. The weight and size of the comforter can put stress on your top loading machine with an agitator and can cause damage to the belts and motor in your top loading washing machine.
f you have a front loading machine, you can wash your comforter without any issues.
Into a front loading machine, add a very small amount of mild detergent. It doesn't take a lot of detergent to clean your comforter and using a small about of detergent will make it easier to rinse. Send your down alternative comforter through 2 rinse cycles. You want to make sure that all of the detergent has been rinsed out of your down alternative comforter.
Drying Down Alternative Comforters
Dry your freshly cleaned down alternative comforter on LOW heat or AIR DRY setting with dryer rings, dryer balls, a clean canvas washable sneaker, or tennis balls (you can cover the tennis balls with socks) to help fluff the comforter filling and keep it from clumping while it dries.
Check your down alternative comforter for dryness after each dryer cycle. If you comforter is still damp or wet, continue to dry until your comforter is completely dry. Allowing your down alternative comforter to remain damp after washing can cause mildew to grow.
Avoid line drying your down alternative comforter. Line drying is not recommended (it can promote mildew), but it can be done if you intend on line drying first and then fluffing and drying the down alternative comforter up in the dryer afterwards.

Down alternative comforters are a smart investment and will provide a warm, cozy bed to sleep in. Keeping your comforter fresh and clean is easy using the steps listed above. If you have any questions about our down alternative comforters, or any of our fabulous bedding products, CONTACT US and we will gladly answer any of your bedding questions.