Bathrooms are often the smallest rooms in the house.Hanging the wrong shower curtain in a small bathroom can visually reduce as much as one-third of the area of the bathroom. How do you hang a shower curtain and not make the bathroom feel even smaller than it already is?
What is the right type of shower curtain to hang in a small bathroom is a dilemma that many homeowners face.Here are a few shower curtain ideas for small bathrooms that will help you maximize your small bathroom space.
Measure For The Right Size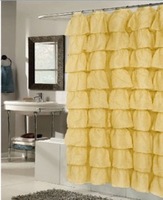 First, measure your shower for the correct size. Use a tape measure to determine the width of the space you want your shower curtain to cover. Measure the length by using the tape measure to measure from the top of the area where you will place your rod down towards the floor, to your desired length. The standard shower curtain size is 70 inches by 72 inches.
If you have a shower that is larger or smaller than the standard size, you may need to purchase a shower curtain that is extra long. For a wider shower, purchase 2 shower curtains that are the same and hang them on one rod.
Install a shower curtain that can be pushed back to one side when not in use. You'll be able to see all the way to the back wall.This trick will allow the full area of the bathroom to be viewed, maximizing all of the space.
Here's another tip -- for more room in a small bathroom, replace the straight curtain rod with a bowed one. A bowed rod adds an additional eight inches of elbow room in the shower, but still support a standard sized curtain.
Pick the Best Color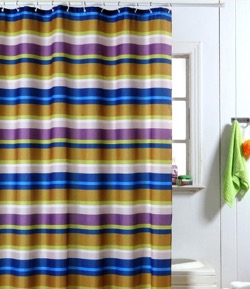 Are you asking yourself, "what color should my shower curtain be to make my bathroom feel larger?" Most experts will advise you to use light, neutral colors are always the easiest and safest solutions for small room walls. White, cream and yellow are standard color options. For that reason, you may want to add a little zing to your bathroom by choosing a shower curtain with a little more color.
Conversely, if your walls are painted with a dark color or a bright color, choosing a white or pale color shower curtain can make your bathroom feel open and less cramped.
Select An Appropriate Pattern
Choosing a solid color shower curtain the same color as your walls can actually make your small bathroom feel even smaller. If you choose a solid color shower curtain, pick one that is a complimentary color. Use varying hues of the same color to add the feeling of spaciousness. Also consider using a solid color shower curtain that has texture as part of the weave of the fabric.
Have low ceilings? Vertical stripes will add a sense of height to the entire space. If your bathroom is a modest size then use horizontal stripes. The horizontal line will create the illusion that your space keeps going. You can achieve this look using a horizontal striped shower curtain.
Choosing a shower curtain that has a pattern will add visual interest to your small bathroom and will help draw the eye back into the room. This clever visual trick will make your small bathroom feel larger. Your guests will focus on the beautiful design on your shower curtain and will not notice the smaller size of your bathroom.
Choose The Right Material
Regardless of the color or design that you choose for your small bathroom, make sure that you choose a shower curtain that is waterproof.Using material that is not waterproof will certainly encourage mold and mildew growth. Material that is not treated will not repel water and will stay wet longer than a waterproof shower curtain. A shower curtain that is not waterproof provides the ideal moist surface that unhealthy mold and mildew thrive on.
In addition, waterproof material is easier to clean in less time.Simply wipe down your waterproof shower curtain with a cloth and mild cleaner. Shower curtains that are not waterproof will require removal, machine washing, and re-hanging taking more time.
We offers a variety of shower curtains and shower accessories at an affordable price. Browse our shower curtains for more ideas for your small bathroom. Also, check out our full line of Bath products.