Table settings are part of everyone's daily routine, whether using plastic and paper, conventional ceramic, or the finest china. Placemats are a useful and decorative addition to your table, keeping your table clean and looking good at the same time! If you're considering buying some placemats but aren't sure what type or size, what to do with them, or how to clean them, then keep reading!
Standard Placemat Sizes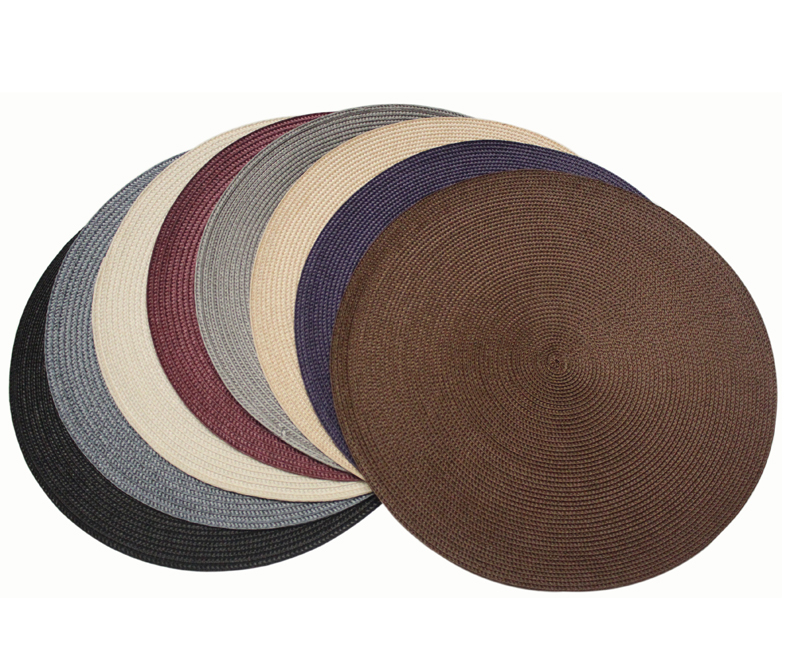 Placemats come in a wide variety of shapes and sizes, including custom shapes and sizes. Here are some of the most common shapes and sizes available.
Standard Rectangular Placemat - a standard rectangular placemat will generally be 18" x 14".
Round – usually 15" in diameter.
Square – usually 13"x13".
Cut-Corner – 18"x14", but will not have corners.
Elliptical or Oval – usually run 13"x19" but can be custom ordered.
Custom – Stars , poinsettias, triangles, and more! Custom placemats can also be made-to-order sizes.
---
---
How to Clean Placemats
Even the neatest dining guests may leave crumbs or stains on your placemats. When that happens, it's time to get cleaning. But wait! Before you start scrubbing, check the care guide for your placemat. The cleaning method depends entirely on what type of placemat you own.
Plastic or Vinyl placemats can be wiped off with a damp cloth, or washed by hand in the sink.
Linen and Cloth placemats can generally be washed in a washing machine. The type of cycle and water temperature will vary depending on the individual manufacturer's recommendations. These placemats may require hang drying.
Synthetic placemats (including rayon, nylon, polyester, and blends) can be washed in a washing machine. The type of cycle and water temperature will vary depending on the individual manufacturer's recommendations. These placemats can generally be dried in a dryer.
Lace or Silk placemats need to be washed by hand with a mild detergent and dried on a flat surface.
Wooden placemats (including bamboo, wicker, reed, etc,.) can be washed by hand in the sink and then air-dried, or minor stains can be wiped off with a damp cloth.
Paper placemats are not intended for re-use, and may be disposed after using.
Leather can be wiped off with a damp cloth, but will need to be dried thoroughly afterwards to ensure that the leather doesn't stain.
Cork placemats can be washed in cold water with mild detergent, although wiping them off with a damp washcloth should usually work. Use sandpaper to remove any marks or stains. Always dry your cork placemats before storing them, as mildew or mold can easily take hold.
While these general guidelines should apply to most types of placemats, always make sure to read the manufacturer's recommendations!
Placemat Ideas
Placemats are versatile and can be used for more than just dinner settings. They can add ambiance, contribute to the attractiveness of a vendor booth, and provide entertainment for kids and adults alike.
Offset cutlery or plates, and accent place settings with contrasting colors.
Spruce up family holiday meals with gold and silver placemats.
Many vinyl and plastic types come in summery or spring patterns; they are an inexpensive way of dressing up your dining room for the season.
Choose paper placemats for both kids and adults! They are easy to clean up, and everyone can keep entertained with crayons or markers.
Have fun with shapes! Most placemats are square or rectangular, so try different combinations of plates and placemats and create interesting, eye catching patterns.
Placemats can also be used in home offices. These types are usually made of real or faux leather, and are thicker. They're designed for writing as well as resting your arms on for long amounts of time.
Lace or Silk placemats can easily accentuate displays of all types. If you have a curio cabinet at home and want to display your grandmother's fine china, a lace or silk placemat can add an extra layer of elegance! Likewise, if you're selling crafts at a convention, you could display your sample wares on one of these beautiful placemats!
If you own a restaurant, a custom printed paper placemat can provide entertainment or information, or a little of both! Some restaurants even print their menus on placemats. You could also offer recipes or preparation techniques for popular dishes.
Placemats are a great addition to any table. Try out some new ideas and explore their versatility in your kitchen!